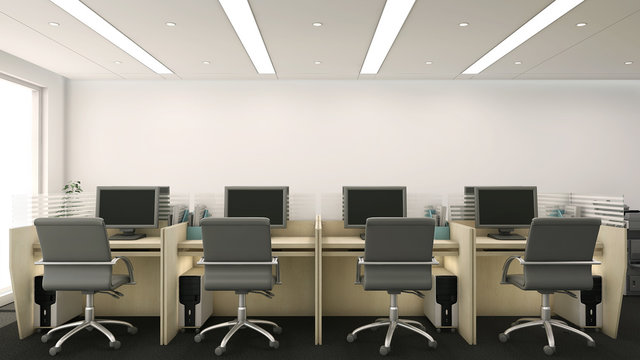 Office Cubicles have long been a staple of the modern workplace. They offer a balance between open-plan spaces and private offices, providing employees with their own defined workspace. While the benefits of cubicles in terms of privacy and focus are well-documented, it's essential to consider how these environments affect employee well-being from a psychological perspective.
1. Privacy and Control: Cubicles provide employees with a sense of privacy and control over their workspace. This autonomy can positively impact employee well-being by reducing feelings of intrusion and allowing individuals to personalize their surroundings.
2. Reduced Distractions: The partitioned nature of cubicles can help reduce distractions and interruptions, promoting concentration and focus. This can contribute to lower stress levels and increased job satisfaction.
3. Enhanced Comfort: Well-designed cubicles prioritize comfort with ergonomic furniture and adjustable elements. Comfortable workspaces can reduce physical discomfort and contribute to overall well-being.
4. Stress Reduction: A quieter and less chaotic environment in cubicles can lead to lower stress levels. The ability to retreat to a private space when needed can help employees manage stress more effectively.
5. Personalization: Cubicles often allow for personalization, such as adding photos, artwork, or decorations. Personalizing one's workspace can create a more positive and emotionally satisfying environment.
6. Ownership and Identity: Employees may develop a sense of ownership and identity with their cubicles. Customizing their workspace can foster a sense of belonging within the organization, leading to increased well-being.
7. Control Over Social Interactions: Cubicles offer employees control over their social interactions. While open-plan offices can sometimes lead to feelings of overexposure and social fatigue, cubicles allow individuals to manage the frequency and nature of their interactions.
8. Adaptability to Tasks: Cubicles can be adapted to suit various work tasks, from focused, solitary work to collaborative projects. This adaptability provides employees with the flexibility to choose the work setting that aligns with their current needs, contributing to overall well-being.
9. Company Culture and Communication: The design and layout of cubicles can reflect a company's culture and communication style. This alignment can create a sense of belonging and shared purpose among employees, positively impacting well-being.
10. Sense of Security: Cubicles offer a sense of security, both physical and psychological. Employees know they have a designated workspace, which can reduce anxiety about finding a place to work in a busy office.
While cubicles can provide numerous benefits for employee well-being, it's essential to strike a balance. Overly enclosed cubicles can lead to feelings of isolation and disconnection. Therefore, organizations should carefully consider the design and layout of cubicles to ensure they align with employees' needs for both privacy and social interaction.
In conclusion, the psychology of cubicles is complex, and their impact on employee well-being is multifaceted. When designed thoughtfully and in alignment with an organization's culture and values, cubicles can contribute positively to employee well-being by providing a sense of privacy, control, and comfort in the workplace. By recognizing and addressing the psychological aspects of cubicles, organizations can create environments that foster well-being and productivity.